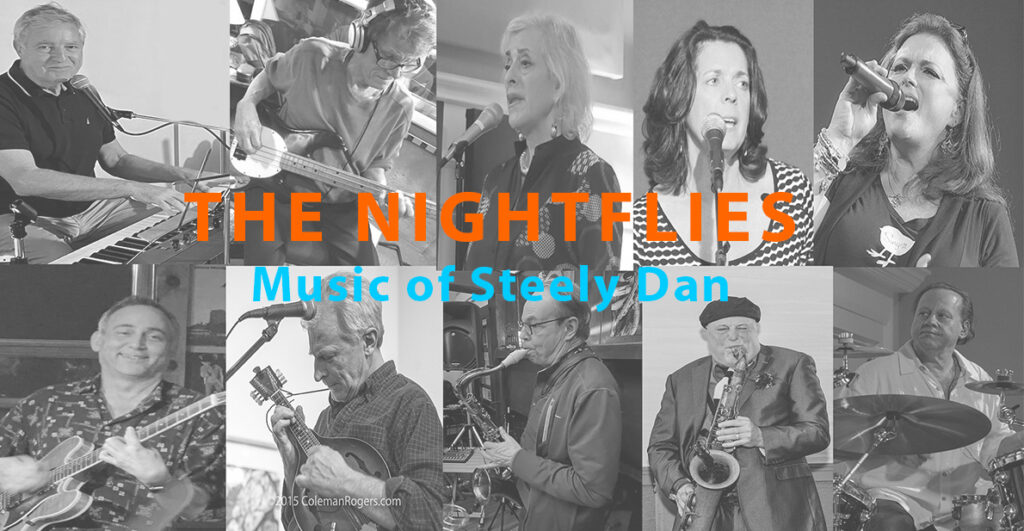 What began as an informal get-together of 10 talented musicians for the love and challenge of playing the intricate arrangements of Donald Fagen, Walter Becker, of Steely Dan, became a high energy, danceable party of music by Steely Dan.
Their name is a tip-of-the-hat to the 1982 standard-bearer Donald Fagen solo album, The Nightfly. They perform an ambitious medley of those recognizable, danceable, foot tapping, 70's-80's radio hits, plus a few Becker/Fagen's deep cuts.
Band members include:
Lori Zuroff – lead vocals
Marcia J. Macres – lead vocals
Tess Ferraiolo – lead vocals
Chris Hurren – keyboards/vocals
Gary Jenkins – bass/vocals
Paul Greenspan – guitars
Mickey Roache – guitars
Bob Adams – saxophone
Mark Seibel – saxophone
Jon Golden ~ drums/percussion
LIKE "The Nightflies Band" Facebook page – https://www.facebook.com/thenightfliesband
She also has her own Jazz Trio and Lola Sweet band and sang with the Midtown Horns, a 16-piece horn centric band that plays a lot of big rock and R&B numbers.
Lori also has a sultry, smoky, swinging jazz repertoire that she uses when sitting in with various Boston area jazz bands and trios and quartets that she puts together.